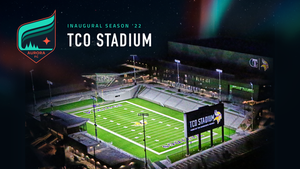 Aurora Announces Home Stadium, Schedule, Season Ticket Deposits
Minnesota Aurora FC announced today a partnership with MV Ventures to play all home games at TCO Stadium in Eagan ahead of their inaugural season in the USL W League starting May 2022.

The stadium, which is a part of the Vikings Lakes campus and adjacent to the Minnesota Vikings headquarters, provides Minnesota Aurora with a first-class facility for fans and players. The partnership includes full access to the locker rooms, press box, VIP areas, concessions and more than 2,500 parking spaces, plus Twin Cities Orthopedics medical facilities and Training Haus next door.

"We are beyond excited that we will be using TCO Stadium for home games," said Nicole Lukic, head coach. "Our players will experience a true professional environment on game day and will have a place they are proud to call home. From the playing surface, to the locker rooms, to the athletic training facilities, TCO Stadium is the perfect fit for our needs."

"The Vikings are proud to welcome Minnesota Aurora to campus and to TCO Stadium, " said Vikings Owner/President Mark Wilf. "We believe in women's soccer and are excited about the future of Minnesota's team."
TCO Stadium seats approximately 5,500 with an ability to expand with temporary seating. The configuration of the stadium for games, along with the 2022 schedule, will be announced in the coming weeks. Season ticket deposits of $30 can be placed now.

"As we continue to build out Viking Lakes and create energy here in Eagan, this relationship with Minnesota Aurora FC is a perfect fit," said Viking Lakes General Manager Kyle Chank. "The excitement for this team is palpable, and it's great to play even a small role in helping grow women's soccer in Minnesota."
"The club is committed to making games as accessible as possible for fans using all modes of transportation. We plan to work with partners across the Twin Cities to create multiple shuttle options, tested and understandable bike routes, and other options that may become available."
---