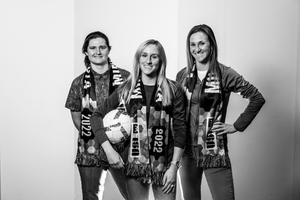 Coaching Staff Announced
After a national coaching search, Minnesota Women's Soccer Team introduced their first ever coaching staff today ahead of their inaugural season in the USL W League starting May 2022.
Nicole Lukic will serve as the team's first head coach. Lukic currently serves as Director of Operations at Twin Cities Rush Soccer Club, one of the largest youth soccer organizations in Minnesota where she works with coaches and teams to ensure success on and off the field. Lukic served as assistant director at Rush Select, an elite national program.  Lukic has experience as a technical director, head coach, and assistant coach at the youth and college levels including starting a program for Rush Wisconsin West.
As a player, she starred for the University of Wisconsin-Milwaukee. Lukic holds a USSF A License, a BA from the University of Wisconsin-Milwaukee, an MS in Athletic Administration from Ohio University, and has been recognized as a United Soccer Coaches 30 under 30 and the 2021 USYS midwest boys competitive coach of the year.
"Being part of this new club is so exciting," said Lukic. "The soccer community is so hungry for opportunities to support clubs like this and being able to play a part in leading this team is absolutely incredible. We are excited to play a technical, attacking style of soccer that helps players grow their game and continue their soccer careers at the highest level and I can't wait to get started."
"Nicole will be an incredible leader for the soccer side of our club," said Andréa Carroll-Franck, co-founder and co-chair of the search process along with Matt Privratsky. "And we are equally proud of the staff she's built to help lead in that work."
Joining Lukic as assistant coaches are Jennie Clark and Jen Larrick. Clark most recently served as assistant coach at Dixie State University in Utah and has previously coached at Hamline University and the University of Minnesota. Her extensive playing career includes 5 seasons in the German Bundesliga, playing for Sky Blue in the Women's Professional Soccer league, and starring as an All American at the University of Minnesota.
"Coming back to Minnesota and being a part of this club feels incredible," Clark explained. "I've personally experienced the challenge of making the transition from college to pros and it's very difficult. This club is perfectly positioned to help top players make that jump and I'm happy to play a part in that."
Larrick most recently served as acting Head Coach for Hamline University and has previously been Director of Coaching at BV United, assistant coach at Augsburg University, and played at the University of Florida and University of Minnesota.
"Bringing a high-level, high-quality summer women's soccer experience to Minnesota is exciting and timely," Larrick said. "There is a real and growing love of girls' and women's soccer here in Minnesota - I hope we can give young girls a team they can dream of playing for one day."
---