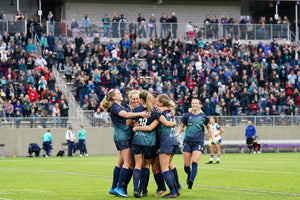 Minnesota Aurora draws first ever game in front 5,219
Eagan  - In a night of firsts, Minnesota Aurora played their inaugural franchise match at TCO Stadium against Heartland Division rivals Green Bay Glory, finishing with a hard fought 1-1 draw in their home opener. 
Green Bay clearly came in hungry, relishing the chance to play spoiler in front of the 5,600 sellout crowd at Aurora's first ever match. The Glory controlled the run of play for the first chunk of the game before Aurora seemed to settle in, build some possession, and work more intentionally into the final third. Still, at half, Aurora had failed to get on the board even as they took more control over possession and put multiple shots on goal. 
At the break, Shelby Hopeau subbed on Abby Ostrem and it didn't take long for her to make her mark. Just minutes later, at the 52 minute mark, Hopeau took an ambitious attempt from deep and the ball bounced below Green Bay keeper Alyssa Stumbaugh, marking the first goal in franchise history for the new USL W League team. 
Hopeau, who flew in from her native Hawaii just a few days ago, said she's proud to be able to make an impact in such a historic moment.
"People think we're from this small island and they don't realize how much passion we have."
From there, Aurora continued to pressure, earning plenty of possession in the attacking third and combining fairly well for a team that's only had a couple weeks. But as the minutes continued to tick, Green Bay leveled things at 1-1 with a great lofted cross and a perfect glancing header to give the Glory their own inaugural goal of the season. 
The tension filled tie between the only two independent women's soccer franchises in the Division is only the first of three matchups this season. Minnesota travels to Green Bay in early July for two matches to close out both teams' regular seasons and to cement which Heartland Division squad advances to the playoffs.
---