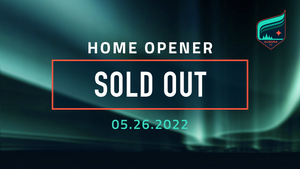 Minnesota Aurora Sells Out First Game
Minnesota Aurora FC, the new pre-professional women's soccer team starting play Thursday, announced today that all 5,600 seats for its inaugural match have been sold for TCO Stadium.  Aurora begins play Thursday at 7 p.m. vs. the Green Bay Glory in the new USL W League.
Minneapolis and Eagan #LightTheNorth for Aurora
Wednesday and Thursday night the cities of Eagan and Minneapolis will light up teal in celebration of Aurora's first ever match. Minneapolis buildings including U.S. Bank Stadium and the Sperry Tower in Eagan will be a part of welcoming Aurora to Minnesota. 
Credential Requests
Planning on covering the game on Thursday? If you have already applied for credentials you will receive an email later today with details on pick up and parking. If you still need a credential, please complete this form. 
https://docs.google.com/forms/d/e/1FAIpQLSdq1ZCXdC7KcCmI8R0P_pJvONVE7rgXdfpqggcQQkJ3AHdZtA/viewform
About Minnesota Aurora FC
Minnesota Aurora is a new pre-professional soccer team that begins play in May 2022 at TCO Stadium in the new USL W League. The team community ownership campaign met the club goal of raising $1 million from 3080 community investors. 
The team was founded by a group of Twin Cities residents and announced last June as a founding member of the new USL W League, which will serve as the country's premier pre-professional league by developing the next generation of women's talent, both on and off the field. 
For more information:
Andrea Yoch, ayoch@mnaurora.com
651-335-9665
---