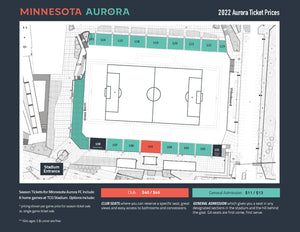 Season Ticket Prices
We are pleased to present our season ticket pricing for our inaugural season. Tickets will go on sale to anyone with a deposit on February 28th (sale to the public on March 2). If you have not put down a deposit, do it today!
From the beginning, we set out to create a club that is fiscally responsible, but also affordable for the community. You'll note that most of the stadium is general admission and will be first come, first serve on game days. We have reserved two sections for group sales and information on buying group tickets will be available closer to the season. Our premium Club Tickets provide reserved seating and fantastic sight-lines as well as close access to concessions and the bathrooms. There is accessible seating at the top of each section that is general admission, as well as the reserved seating ADA section at the top of the Club Section. Children 3 and under do not require tickets. Individual game day tickets will be available as we get closer to the season. Parking at the stadium is free and we are working with partners to set up a number of free shuttles to the stadium.
---